Reimagine Your Home
When you're undertaking something as extensive as redesigning your home, you need a project partner that's as excited about your vision and as invested in your success as you are. Enter TMD Custom Builders! We've been helping homeowners throughout the Denver area unlock the full potential of their property and bring their wildest dreams to life with custom, detail-oriented remodeling and new home construction work. We've been developing our reputation for exquisite craftsmanship and dependable accountability for years, and when you choose our team, you'll be able to redesign your home confidently knowing every detail will be thoroughly taken care of. Call us today to start the conversation. Let us enact your vision!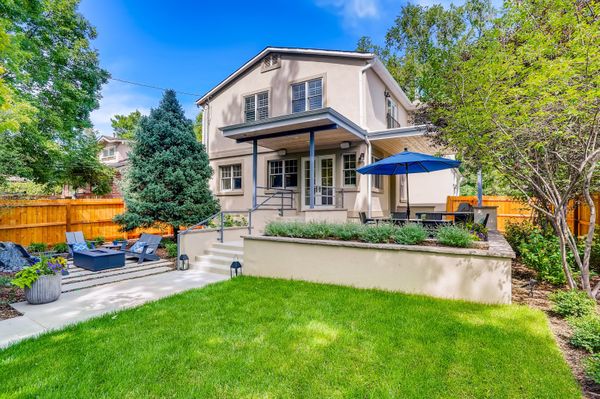 TMD Custom Builders is Denver's expert home remodeling firm, offering:
Custom home design and construction

New home construction

Home renovations and remodeling

General contractor services

And more!
In our High Street project, we completely transformed a two-story home house in Wash Park into a family's dream home. This project involved extensive design work as we updated the floor plan, redesigned and rebuilt the main floor and basement, and built a unique outdoor living space addition that makes this home as functional as it is stylish.
There are plenty of highlights to be enjoyed in the completely redesigned interior of this two-story bungalow, but the kitchen in particular stands out. We upgraded the kitchen to give it a contemporary feel, adding a butler's pantry, large windows, and a custom lighting plan to elevate the sense of spaciousness and warmth. Between this inviting space and the comfortable patio, you'd have a tough time deciding where to have your morning coffee.
Features
Outdoor Living Space Addition

Butler's Pantry

Custom Lighting Plan

Updated Floor Plan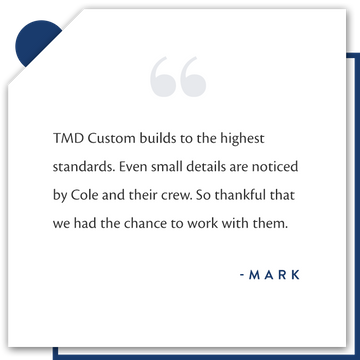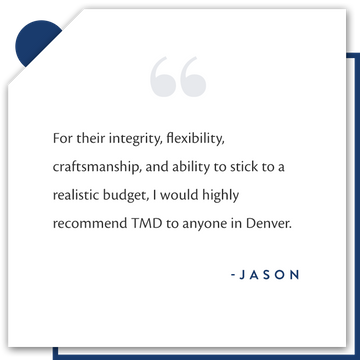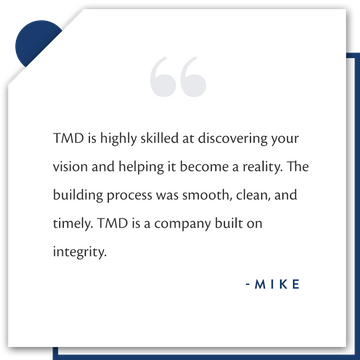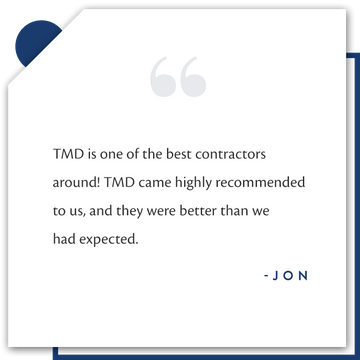 Our Design Process
Attention to detail, transparent communication, and personable service are the bedrock to our success here at TMD Custom Builders, and we make them the central focus of our custom home design process. From the first time you connect with us, you can expect to enjoy a highly individualized design experience tailored to your specific needs and desires. Together, we'll set clear expectations and a project timeline you can hold us to, and we'll work in your best interest to craft and execute a custom home design that fulfills your division and delivers the most value possible to your property. Our design process encompasses a few key steps:
Getting To Know You — In this phase, we'll talk with you to better understand your vision for your project, set expectations and a budget, and discuss the most effective ways we can bring your dream to life and add value to your property.

Design — In this phase, we'll come up with the plan and blueprints to execute your vision, and discuss opportunities to add additional value to your home.

Build — During construction, we'll keep you up to date on all facets of your project and meet once a week on-site to ensure the quality and efficiency of the work.

Final Touches — As we wrap up, we set aside additional time to ensure every aspect of your custom home build or remodel is perfect, down to the last detail.
To learn more about how we operate at TMD Custom Builders, visit our Design Process page! Connect with us today to start the conversation about your dream home, or fill out the contact form below to have us make the first move! We can't wait to get started transforming your property for you!