Transform Your Space
You don't need to relocate to enjoy living in the home of your dreams. Choose TMD Custom Builders to bring your imagination to life on your existing property! We're Denver's foremost custom home builders and remodeling experts, with years of experience helping homeowners throughout the area transform their houses into the stunning designer homes they dream of living in. All you have to do is start the conversation to start experiencing the accountability, transparency, and obsessive attention to detail that makes us one of Denver's most dependable custom home builders. Call TMD Custom Builders to get started today!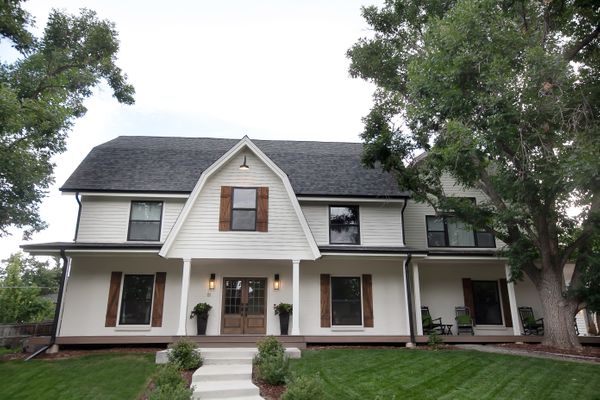 TMD Custom Builders is Denver's finest design build company, offering:
Custom home design and construction

New home construction

Home renovations and remodeling

General contractor services

And more!
In our Front Range Road Custom project, we breathed new life into a tired and dated 1970s colonial home. The property undertook a massive transformation that involved stripping the original structure down to its skeleton and completing a significant addition. The result — a stunning modern farmhouse.
This home boasts many wonderful features that you might expect from a farmhouse, including a gorgeous kitchen with an island design and intimate lighting, a detached barn-style garage, and a pristine outdoor living space, complete with custom stonework.
Features
Custom Kitchen
Spacious Outdoor Living Area
Our Design Process
Collaboration and clear communication are key when undertaking projects as large as a home remodel or custom home build. When you choose TMD Custom Builders for your home project, we'll give you peace of mind with our transparent, detail-focused approach to home design. We implement a personalized approach to our design process that puts your needs and desires for your property center stage. We strive to exceed your expectations for build quality, accountability, and thorough communication. Here's how you can expect the design process to work when you choose TMD Custom Builders:
Getting To Know You — We start every project by getting to know you, acquainting ourselves with your desires and expectations, and discussing how we can work within your budget to deliver you a high-value project that meets your dreams for your home.
Design — Once we've ironed out the essential details of your project, we'll prepare blueprints and electrical designs and seek your feedback before beginning the build phase. We'll also suggest better construction practices to help you add additional value to your project and improve the efficiency of your home.
Build — As work on your project gets underway, we'll meet with you once a week on-site to ensure everything meets our standards and is staying on schedule. We'll keep you in the loop off-site too, with regular communication about your project's progress, budgetary information, and more.
Final Touches — Before the build is complete, we take a little extra time to ensure that every aspect of your project is pristine, down to the smallest detail.
Visit our Design Process page for more an in-depth look at how we approach custom home design and what sets us apart as Denver's premier custom home builders and remodel experts. Connect with TMD Custom Builders today to start planning your home's transformation today, or fill out our contact form below if you'd like us to start the conversation! We look forward to speaking with you.