Choose Denver's Finest Remodeling Experts
The atmosphere of a shop is the cornerstone to any B2C business. It's essential when planning the space for a new venture that you consider not only the space you'll need to work and produce and sell your products, but the space that your customers experience, as well. At TMD Custom Builders, we combine interior design expertise with a top-notch crew of builders and contractors to offer you full service remodeling and renovation for your business. While we primarily work on custom homes, we have the experience needed to help you transform your business into an inviting space and add value to your property. Over the years, we've developed a reputation around Denver for our attention to detail, attentive service, and stunning results! We'd love to add you to our list of homeowners and business owners that we've had the opportunity to help. Connect with us today to get started with an introductory consultation!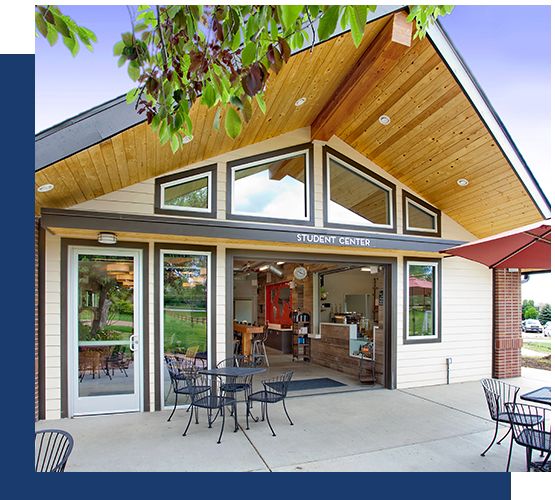 TMD Custom Builders is one of the most trusted remodeling contractors in Denver, offering:
Custom home design and construction

New home construction

Remodeling and renovation work for homes and businesses

General contractor services

And more!
____________________
Bridges Coffee
In our Bridges Coffee project, we helped one of the finest craft coffee shops in the Denver area reinvent their shop to make the most of their space. We spent a lot of time developing the floor and lighting plan to help create a warm, inviting lounge that flows seamlessly from inside to out to allow customers to enjoy their coffee in all kinds of weather. Shelving and unique woodwork was added to the front-of-house to maximize storage space and organization in the retail area.
There are plenty of highlights to feature in this project, but we're most proud of the variety of spaces available to customers in the lounge. Browse some of the pictures and you'll notice outdoor patio seating, traditional cafeteria-style seating, a gorgeous wooden bar table, and comfy lounge seating scattered throughout the shop. We designed the lighting plan to take advantage of heavy amounts of natural light as well as incorporate custom interior lighting, in order to maximize the warmth of the customer experience year-round.
Features
Reimagined customer experience

Seamless indoor/outdoor lounge

Unique front-of-house

Custom lighting plan
Bridges Coffee
Detail-Oriented Home Additions In Denver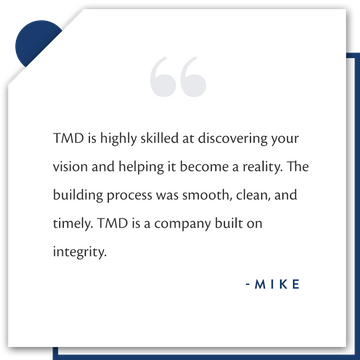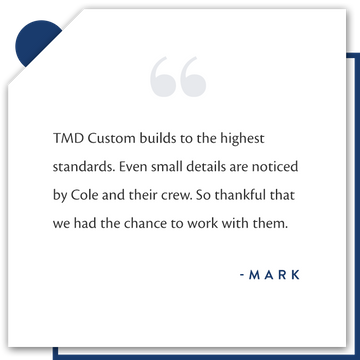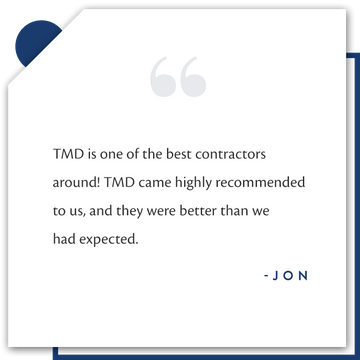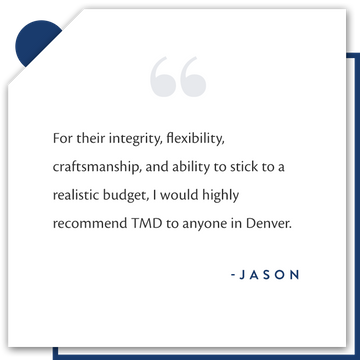 Our Design Process
Your business is your passion, your life. When undertaking something as significant as a remodel, you need a design partner that's committed to your personal success. When you choose TMD Custom Builders to remodel your business, you'll enjoy a design build experience that is customized to your budget, your vision, and your property's needs. Accountability, transparency, and attention to detail, are central to the way we do business. Here's how those values are reflected in the way we do remodeling:
Getting To Know You — We begin each new project by getting to know our clients. We'll meet with you to learn about your vision for your business, set expectations you can hold us to, and establish a budget. We can also help guide you in the selection of construction materials to add value to your property.

Design — Once we've laid the groundwork of your vision, we'll get to work sketching out the details in blueprints and electrical designs, seeking your final approval on all designs before moving forward to the construction phase.

Build — As your project progresses, we'll meet with you weekly on-site to review progress and all pertinent details. We'll also keep you in the loop with digital reports on finances, materials reports, and other details.

Final Touches — Before we finish, we take extra time to ensure everything is perfect, down to the last detail. We want your business to be the envy of your industry!
Check out our Design Process page today to learn more about how our unique process to business remodeling can set you up for success and a high-value project. Contact TMD Custom Builders today to get started with an introductory consultation for your business, or fill out the contact form below to have us take the initiative. We look forward to speaking with you!