Enjoy The Home Living Of Your Dreams
You have the budget to transform your home into the magazine-worthy eye candy you've always dreamed of. So why wait another day? Your home is your most valuable asset, and an investment in home remodeling not only makes your home life easier and more enjoyable, but it enriches the value of your property for years to come. Start living in your dream home today!
TMD Custom Builders is one of the most experienced and reliable dream makers in the Denver area. Why do we call ourselves dream makers? Because we put our design expertise and detailed-oriented builders to work every day to help homeowners from Bow Mar to Five Points transform their properties to realize their visions for their homes. We've earned ourselves a sterling reputation for our meticulous craftsmanship and personable approach to home design, and we'd love to put our passion and expertise to work for you. Call us today to get started with an introductory consultation!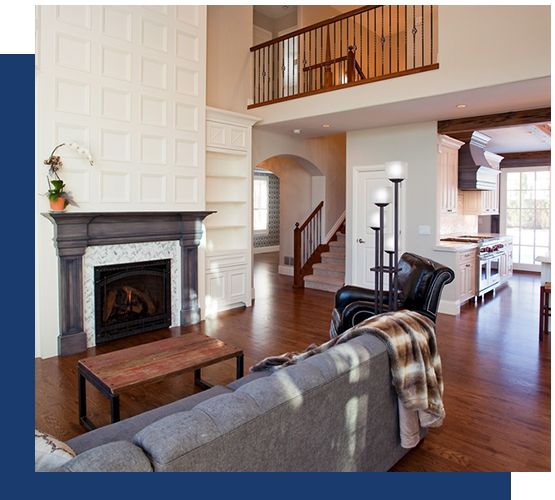 TMD Custom Builders is one of the most trusted remodeling contractors in Denver, offering:
Custom home design and construction

New home construction

Home remodeling and renovations

General contractor services

And more!
____________________
Bonnie Brae Kitchen
In our Bonnie Brae Kitchen project, we worked with a homeowner in Denver to reimagine their great room and kitchen, which were poorly planned by the original builder. We reimagined and remodeled these spaces in concert with the homeowner's vision. The result? A warm, spacious kitchen that would be the envy of any chef, and a truly gorgeous great room that is a picturesque backdrop for countless cozy evenings in.
This remodel transformed the main floor of this client's home, but we're most proud of the kitchen design. This kitchen is the ultimate in both form and function, with a kitchen island so long it should be called a kitchen continent, gobs of storage space, a large stove and oven perfect for cooking for large groups, and a thoughtful lighting design that incorporates tons of natural light, as well as delicate chandelier lighting for a softer feeling in the evenings. This kitchen is replete with both space and fine detail work. Just imagine yourself entertaining in it!
Features
Large island

Custom lighting design

Wooden flooring

Intricate detail work
Bonnie Brae Kitchen
Detail-Oriented Home Additions In Denver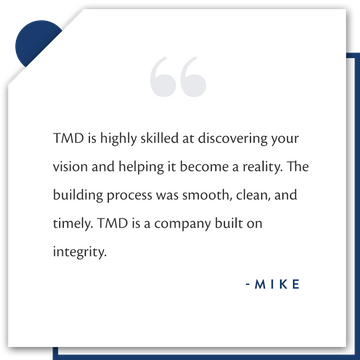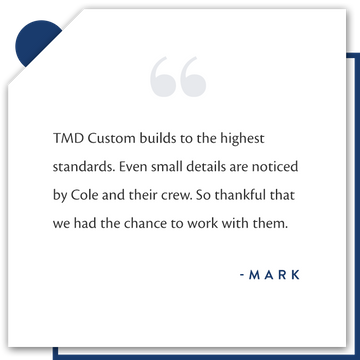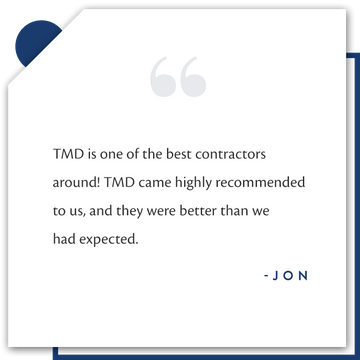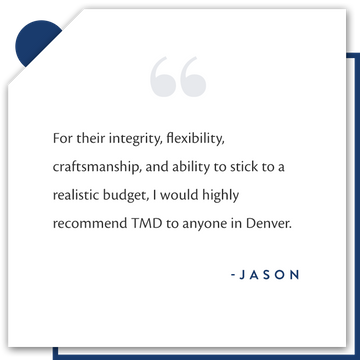 Our Design Process
For an important investment like a home remodel, you deserve to work with a builder that is attentive to your needs and wishes at every step of the way. At TMD Custom Builders, you can expect a personalized design build experience that is tailored to your preferences and the unique intricacies of your property. From start to finish, you can expect nothing short of complete transparency, accountability, and meticulous attention to detail. Here's how the design process works when you choose TMD Custom Builders to transform your Denver property:
Getting To Know You — In this introductory phase, we'll meet with you personally to learn about your vision and goals for your project. We'll discuss your budget, your ideal project timeline, and other factors that will help us draft the initial design work for your property.

Design — Once we have the essential details ironed out, we'll start adding details to the skeleton of the design concept, drawing up blueprints and electrical designs. We'll also discuss opportunities to add more value to your project, if desired. Once we have your approval, we'll begin the build!

Build — As your project gets underway, we'll meet with you on-site on a weekly basis to ensure the project is up to our quality standards and to review progress and other details with you. We'll also keep you up-to-date with digital reports as to build progress, budgetary information, and other pertinent details.

Final Touches — We devote extra time before wrapping up your project to get the finest details perfect in order to deliver truly stunning results!
To learn more about the client experience you can expect when your partner with TMD Custom Builders, visit our Design Process page, where you'll learn more about how we uphold the values of accountability and precise craftsmanship through our work. Contact us today to get the ball rolling on your custom home remodeling project or renovations, or fill out the contact form below if you'd prefer we reach out to you. We look forward to working with you!