Dream Home Design Down To Every Detail
Bringing your dream home to life is no small undertaking. At TMD Custom Builders, we set ourselves apart from the other custom home builders in the Denver area with a personable, individualized approach to home design and construction that ensures every detail of your dream home is accounted for to maximize its efficiency and value. Together, we'll form a partnership that stays engaged and accountable for your expectations, ensuring your custom home build is on the mark. Call us today to start the conversation, and let's talk about how we can bring your dream home to life!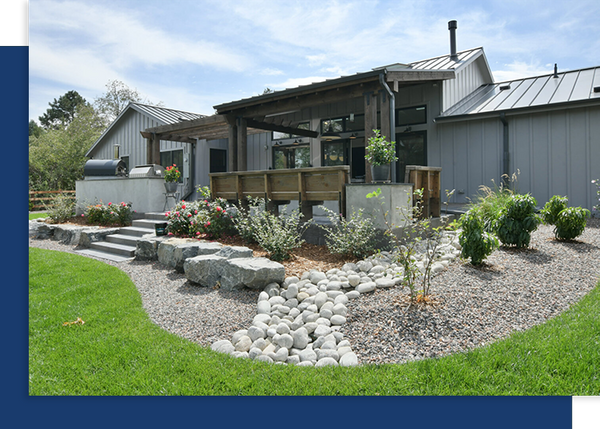 TMD Custom Builders is Denver's premier design build company, offering:
Custom home design and construction

New home construction

Home renovations and remodeling

General contractor services

And more!
Our Custom Home Design Process
At TMD Custom Builders, our design process is uniquely tailored to the needs of each of our clients and their individual projects. We make the design process simple and enjoyable by focusing on your needs and building a partnership. We strive to be one of the top custom home builders in the Denver area, and that starts with our personable approach to customer service and home design. Read on to learn more about our home design process, and give us a call to start planning your new custom home today!
Getting To Know You
The journey begins here. During this initial phase, we will meet with you to learn about the details of your new home construction or home addition you're seeking to build on your property. We want to hear your story, your vision for your new home, your absolute must-haves for the build, and your expectations and goals for the project. We're committed to building relationships with our clients and helping them feel comfortable in knowing that we're here to build their dream home on schedule and at cost. We at TMD Custom Builders believe that communication and transparency are essential for successful new home construction, and we build the foundation of our design process on these values. We deliver a better-built home using the best materials and the most experienced and capable craftsman in Denver.
Design
This is where our custom home builders bring your dream and vision to life! We have built a network of Denver's most talented architects that will collaborate with you to give you a custom home design that you will love. During this phase, we will also recommend better building practices and help guide you on ways to improve the energy efficiency and value of your new home.
Build
We take quality and communication seriously here at TMD Custom Builders. During the build phase, we'll meet once a week onsite to ensure the quality and efficiency of your new home construction process and maintain transparency of the building costs. We use special online project management software to provide you real-time updates on construction schedules, product and material selections you can make, and financial information about the project to ensure your project is coming in at budget. Our custom home builders believe that the fine details of a project start with what is behind the walls, so from start to finish, you can rest assured knowing that we have a project manager and a field supervisor ensuring your new home construction is of the highest quality.
Final Touches
When it comes to new home construction, we at TMD Custom Builders believe that craftsmanship and the fine details are what separate the best builders from the rest. Our relentless attention to detail is what sets us apart from the other custom home builders in the Denver area, and it's why we devote an entire step in our process to honing in on the finishing touches of your custom home build to ensure every detail of your project is finalized, every expectation you have for your project is met or exceeded. We want the owners of custom homes to enjoy high-value, long-lasting homes, which is why we guide you throughout the design and build process on selecting the best materials and using the innovative home building techniques to get the most efficiency and value out of your new home possible. In our final step, we review all of these details to ensure maximum build quality and your complete satisfaction.
We know that you are going to love living in your new custom home for years to come. When all of the final touches are completed and all inspections are passed, we turn over the keys so you can start living your new life in your dream home.
The journey to enjoying your new dream home begins with a single step. Call TMD Custom Builders in Denver today, and let's have a conversation about bringing your vision to life!